Being fed up with the Israeli occupation's policies impacting Gaza's economy, this is the story of Ahmad Al-Hajin, who became a part of the economic growth in his Gazan community by designing a complex system that controls temperature and humidity fully and automatically to grow sensitive mushrooms.
The economy in Gaza mostly depends on agriculture and small industries. As Gaza is besieged, it is hard to start a business or boost local production because of the Israeli restrictions on imports, especially on the raw materials needed to grow white mushrooms. As a result, the market in Gaza is dominated by what they call "the competitor product", as in the Israeli products, because they have no other option.

Kindy Farm's Journey




They say that the third time is a charm, but it was the seventh one for Ahmad!
Ahmad faced many challenges while trying to bring in an initial mushroom shipment from abroad, but he was determined to reproduce these mushrooms locally. Finally, and after being able to receive a shipment from Italy, Ahmad was focused on making the cultivation process self-sufficient; he wanted to make the soil and the seeds in Gaza rather than keep facing the tyranny of the enemy.
Ahmad worked on reproducing the champignon in the Islamic University of Gaza laboratories. Even though Ahmad and his team failed 6 times, he was persistent to keep trying, and the seventh trial did not betray him. Consequently, Ahmad built the first mushroom farm in Gaza. Currently, the farm produces around one ton of champignon each month, and it is well prepared and automated to provide the perfect level of temperature and humidity to guarantee a smooth production process for the mushrooms. Kindy's mushrooms replaced the Israeli mushrooms in the Gazan market in no time as they were better quality and a more affordable alternative.


Why Mushrooms?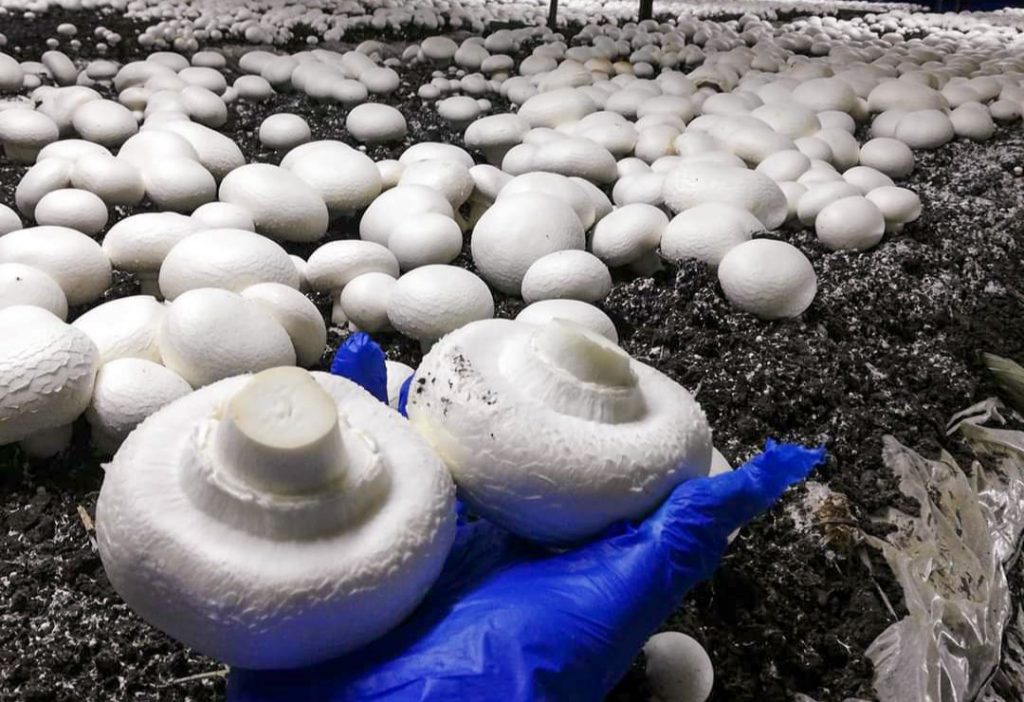 Approximately, around 64.4% of Gaza's population suffers from food insecurity as a result of the severe poverty caused by the blockade. White mushrooms are an excellent option for the Gazan market as they are considered a healthy alternative to the protein in meat. Mushrooms contain vitamin D and vitamin B12, they are low in sugar and calories. Mushrooms improve the gut's health, protect from breast cancer, boost the immune system, and even do more wonders to the human body. Ahmad aims to add mushrooms to the Palestinian table so it contributes to minimizing the effect of food insecurity.


Obstacles Along the Way

The farm had to be self-sufficient due to the most prominent challenge in Palestine; the occupation. Since Gaza is besieged, electricity remains a notable barrier for the residents of the strip. Since the planting system mostly relies on electricity in powering technology used for heat and humidity, it requires electricity to keep the process going. Kindy started using alternative generators to solve electricity issues and power outages. However, the team is still working towards finding another source of energy, such as a solar one or an environmental one that consumes agricultural remnants.
As a Palestinian entrepreneur, Ahmad believes the occupation and the financial support remain the top two obstacles for any entrepreneurial idea in Palestine.



Kindy Farm's Ambitions

Kindy started as a small farm but produced the most selling mushrooms in Gaza. The team believes that they are going to expand to the West Bank by the end of 2022, by which they aim to create more job opportunities. The team is looking forward to bringing new agricultural technologies to Palestine and producing crops other than mushrooms. Thus, Kindy Farm's ambition lies in boosting the local economy and fighting food insecurity along the way in Gaza and Palestine.
"It is impossible for traditional mentalities to get us out of the dilemma we are living in, we need creative entrepreneurial brains."

Ahmad Al-Hajin



How Did BuidPalestine's Fellowship Help Kindy Grow?
"Every information I have received through this program has built on my capabilities. Through the fellowship, I was able to identify as a social entrepreneur and understand what "Impact" means. I was also able to connect with volunteers who are helping me with marketing and outreach."

Ahmad Al-Hajin
BuidPalestine's fellowship program provides weekly check-ins and monthly training sessions and coordinates shadowing opportunities for skill building and mentorship. Fellows have the opportunity to learn from a professional community of expert organizers focused on social entrepreneurship, business modeling, financial planning, and storytelling. In addition, BuildPalestine's fellowship allows the matching of skilled volunteers with fellows from BuildPalestine's network.

Who's Ahmad Al-Hajin?