2020 SOCIAL INNOVATION SUMMIT  SPEAKER
Hala Sabbah
Founder & Coach @ Healthy Feminist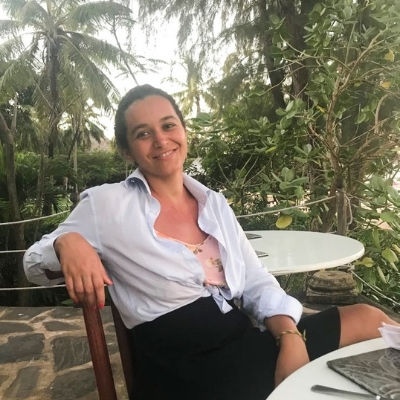 "Mental health and COVID-19: challenges and opportunities"
JOIN US TO RADICALLY IMAGINE THE FUTURE OF PALESTINE
Panel: Mental health and COVID-19: challenges and opportunities
Alongside Covid-19, there is also a mental health pandemic. What evidence do we have and what conversations do we need to have to promote social mobilization and innovation in the realm of mental health?  Who has started to push the frontier? What are their challenges? And what opportunities do the panelists see on the ground? 
Hala Sabbah's Bio
Hala Sabbah is a Palestinian, who lived in the Gulf, Algeria, Jordan and the UK where she is currently based. She has over 7 years of experience working in NGOs, Media and Tech & Strategy Consulting and also has extensive experience in working with youth and facilitating trainings and workshops.
Hala is passionate about community-building and is a big believer in safe spaces for dialogue as a step towards social change. She founded Healthy Feminist in 2019 and offers services in Life Coaching, Mental Health Workshops and Consulting in Diversity and Inclusion (D&I).
هالة صباح
عاشت هالة صباح فلسطينية الأصل في الخليج، الجزائر،والأردن بينما تقيم حالياً في المملكة المتحدة.
لدى صباح خبرة في العمل مع المنظمات غير الحكومية والإعلام والتكنولوجيا والاستشارات الإستراتيجية تتعدى ال7 سنوات الى جانب خبرتها الواسعة في العمل مع الشباب وتسهيل التدريبات وورش العمل.
تؤمن هالة بشكل كبير بموضوع المساحة الآمنة للحوار كخطوة نحو التغيير الاجتماعي وهي انسانة شغوفة ببناء المجتمع.
أسست "هيلثي فيمينست" عام 2019 والذي تقدم فيه خدمات تدريب ارشادي ، ورش عمل خاصة بالصحة العقلية واستشارات في التنوع والشمول.
This is your chance to plug into the social innovation scene in Palestine and directly connect with changemakers.