2020 SOCIAL INNOVATION SUMMIT  SPEAKER
Mariam Barghouti
Writer, researcher, political commentator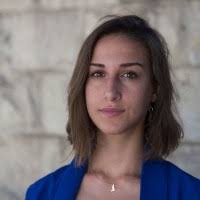 "What is Radical Imagination?"
JOIN US TO RADICALLY IMAGINE THE FUTURE OF PALESTINE
Panel: What is Radical Imagination?
What does it mean to imagine a radical future in the context of continuous and relentless structures of oppression?
Building on the work that has been ongoing by activists for decades and thinking about internationalist solidarities,  this panel seeks to explore the process of radical imagination in Palestine and beyond.
Mariam Barghouti's Bio
Mariam Barghouti is a writer and researcher based in Ramallah. Her political commentary has been featured in al-Jazeera English, the New York Times, Newsweek, the Guardian, BBC, and more. Her journalistic bylines include in al-Jazeera English, The Intercept, Middle East Eye, amongst others. She has also lectured in Sociology at the Arab American University of Palestine and currently conducts research and analysis for various organizations in the region on gender, socio-economic inequalities, humanitarian aid, and political realities. 
This is your chance to plug into the social innovation scene in Palestine and directly connect with changemakers.