Contribute to therapy support for affected people in Gaza
This campaign has ended on 23-8-2021
Campaign by: Hakini
Campaign Summary
'Hakini' ("tell me", in Arabic) is an online platform that provides mental health therapy support for people in Palestine. The recent attacks on Gaza bombarded the mental health of Palestinians. Since then, our team has received hundreds of messages from people in Gaza seeking therapy support to help heal their trauma. Today, we have a waiting list of more than 150 people who individually reached out to Hakini seeking help and psychological support. Trauma, sleeping disorders, anxiety and depression are among the most common psychological challenges that people in Gaza are facing after the ceasefire.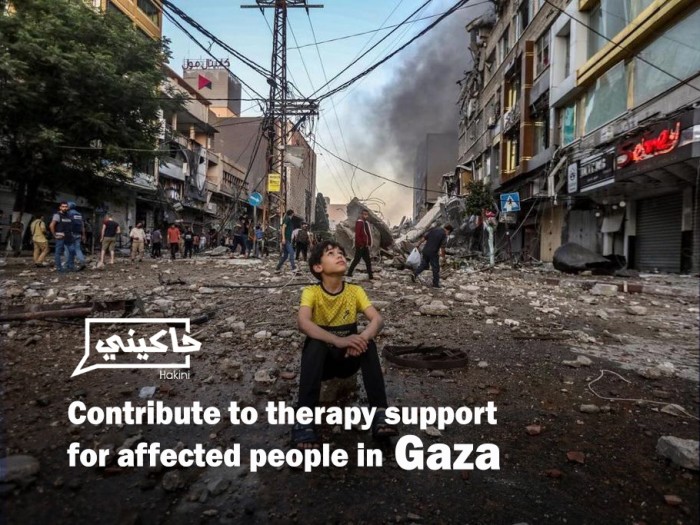 What is our plan?
Hakini is going to provide online therapy support for free to people from Gaza, this will include two ways of support:
1. Connecting Palestinians in Gaza to therapists to receive one-on-one sessions – Our online platform identifies the need of people seeking help and then recommends them with three therapists that would be a good match to help them in their therapy journey.
2. Workshops for groups of 12 participants – These workshops will be divided into two phases. The first session is informative, where people raise awareness about the mental health challenges that they face. The second phase will be a practical and cathartic session, in which people apply practical self-care tools that will help them to independently overcome the common psychological challenges that they face with minimal intervention from a human therapist.
How can you help?
Hakini is raising $32,000 to address the need of people who already reached out to Hakini to help support their therapy and healing journey.
You can donate to help us provide 500 one-on-one therapy sessions and 25 workshops for 300 participants for free for affected people in Gaza. The cost per session is an average $45, and any donation amount is appreciated.
You can also spread the word and share this campaign with people you think would be interested in supporting this crucial project. Feel free to share it with your friends, organizations, and businesses that might be interested to donate and provide therapy support for people in Gaza.
About Hakini
Hakini, ("tell me", in Arabic), is an online Arabic therapy platform that uses guidance for self-help intervention and teletherapy to increase accessibility to mental health care in the Arab world. Hakini's website and mobile application remotely connect and match users to therapists providing confidential care. Hakini's platform guides users to self-help interventions and evidence-based exercises. Hakini started its operations in Palestine, and it's thus far provided therapy and mental health services for thousands of people.
Founder – Sondos Mleitat, is the founder and Co-CEO of Hakini. "A few years ago, I suffered from my mental health and I was in a dire need for therapy and psychological support. For a Palestinian woman who lives in the West Bank, this was not an easy task, therapy support was hard to access. But when I found the right therapist, my life became much better. I became a more resilient, and independent woman, I got the skills to cope with challenges. For me, the therapy experience positively changed my life. After this experience, I decided to create Hakini to help other access to therapy in Palestine."
raised from the $16950 goal