Help Bring Medical Aid to Palestinians under Siege in Gaza
This Campaign has ended on 04-06-2019
Campaign by: MECA   
Campaign Summary
This campaign was dedicated to supporting emergency health services in Gaza. MECA purchased medicine and medical supplies from private pharmacies to help hospitals and clinics provide urgent services in Gaza.
Problem
Israel's military occupation and twelve-year blockade of Gaza affect every aspect of life. Water is polluted and not safe to drink. Electricity is available only a few hours a day. Unemployment and poverty rates have skyrocketed. And the health sector is overwhelmed trying to meet the needs of nearly 2 million people. Hospitals and clinics have perpetual shortages for medicines to treat chronic illnesses, as well as routine and acute health problems. Patients with life-threatening illnesses are often prevented from leaving Gaza to seek treatment.
Solution
Sick and injured people in Gaza need immediate, life-saving help. The Middle East Children's Alliance has been working in Gaza for 30 years and has sent $25 million of dollars of medicine and medical supplies to local hospitals and clinics in Palestine, Lebanon and Iraq. Now, due to the tightening siege on Gaza, our staff in Gaza need to purchase medicine and medical supplies from private pharmacies to help hospitals and clinics provide urgent services.
This campaign will reach people who cannot afford treatment. The funds will make it possible for the people most in need to get surgeries, medicine for chronic illnesses, and treatment for kidney disease.  Your support will also provide fuel for Al-Awda hospital, which treats 10% of the injured from the Great March of Return and is the main provider for pregnant women in northern Gaza.
About Middle East Children's Alliance
The Middle East Children's Alliance is a nonprofit organization working for the rights and the well-being of children in the Middle East. MECA supports dozens of community projects for Palestinian children and refugees from Syria. Since 1988 we have delivered $25 million in food and medical aid to Palestine, Iraq, and Lebanon. MECA welcomes the support of all people who care about children and their future.
BuildPalestine team guided and coached us through our first crowdfunding campaign last spring. The campaign was to provide medical aid to people in Gaza and raised $32,767 from 587 supporters – much more than our original goal of $10,000. We learned so much from BuildPalestine about how to explain the needs on the ground in Gaza succinctly, create compelling video content, and run a crowdfunding campaign from preparation to launch to finish. With the help of BuildPalestine, we received donations from hundreds of new donors around the world allowing us to provide life-saving medicine and medical services to people in Gaza.
We "Zoomed" with Shirabe, Executive Director at Sunbula, who was all the way in Japan during the time of the call, to hear about the results of their latest crowdfunding campaign. 
Sunbula is a Jerusalem-based fair trade organization that supports artisan groups, and marginalized women and communities in Palestine through the promotion and sale of traditional artisanal crafts. The organization, founded in 1988, has a stronghold in Jerusalem, and Palestine as a whole, and has been working to support different communities for the past 33 years.
In the summer of 2020, Sunbula launched a Covid-19 relief campaign. The team was able to raise more than $17,000 USD, over twice the original fundraising goal. "We thought that because of the Covid-19 situation at the time, it was going to be a more challenging campaign to run, but it turned out to be the opposite." Sunbula ended up raising the goal twice. "It was a huge surprise to us." Shirabe commented.
And because of the online activity promoting the crowdfunding campaign, the Sunbula online shop saw a spike in orders, especially in the months following the campaign. This was a significant push to Sunbula and their partner producer groups. "The more exposure we got, the more direct impact we could make." noted Shirabe.
Of the funds raised, about 60% went to Sunbula, and the other 40% went as direct aid to eight partner producers and artisan groups. The funds from the campaign were a 'breather' for many of these artisan groups, who otherwise may have had to shut down. The Oasis Center in Bethlehem for example, was able to secure funds for daily transportation costs for their workers with disability. Other producer groups who were able to benefit from the campaign relief fund are Jelld, Bethlehem Arab Women's Union, Amari Women's Program Center, Melkite Pastoral Center, The Surif Women's Cooperative and Idna Ladies' Association.
The ripple effect of impact
We spoke to Sadiyeh from the Idna Ladies' Association, who sends her genuine gratitude to supporters of the campaign. "Prior to the Covid-19 crisis, orders through Sunbula were sufficient to provide income for the association's employees, as well as purchasing supplies. The pandemic affected everyone and especially our association and women who work at the organization." Sadiyeh said. The campaign helped provide direct income for the women working in embroidery, many of whom spent over three months without any pay. The association is larger than sales of products, Sadiye added. "I was able to send all my daughters to college with the income I make from my work. I thank every person who feels with us and anyone in need, and who supports the work we do." Sadiyeh recognizes that donations are not sustainable, and to truly survive during and beyond the pandemic, orders need to continue coming in. The Idna Ladies' Association supports 40 households in the area.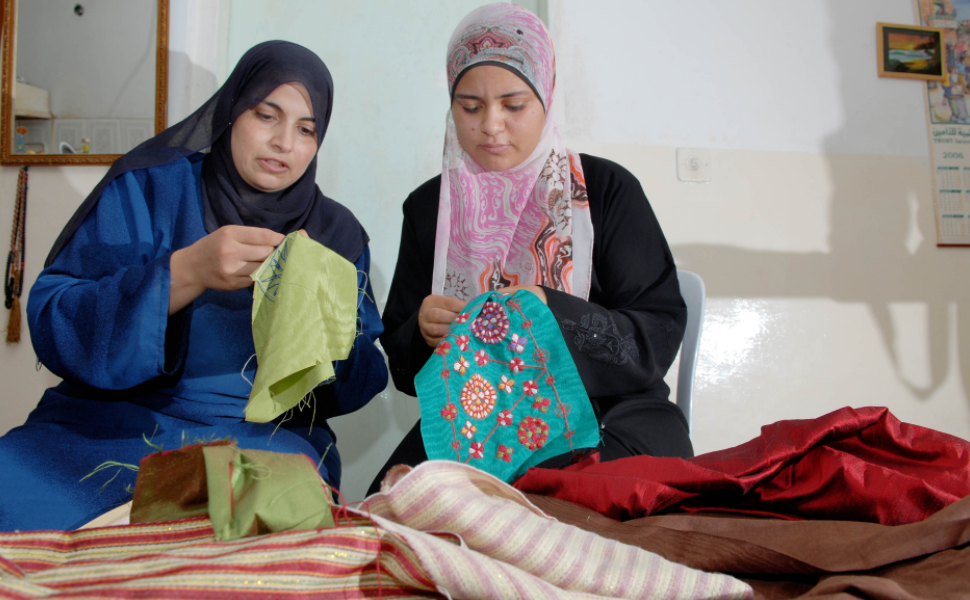 On Sunbula's end
The fairtrade organization is currently working on rebranding their website and different digital marketing channels. Similarly to other organizations, Sunbula has had to focus on going digital to compensate for the in-person sale losses. The constant closures and lockdowns were an additional challenge in 2020, but things are looking up.
Shirabe says their online sales have been solid since the holiday season. But not enough to compensate for Covid losses. If you'd like to support fairtrade in Palestine, check out Sunbula's shop here.
Stay tuned to the latest from Sunbula. To browse through Sunbula's store, visit https://www.sunbula.org/ and follow their Facebook and Instagram.