2020 SOCIAL INNOVATION SUMMIT  SPEAKER
Mona Demaidi
Dr , An-Najah National University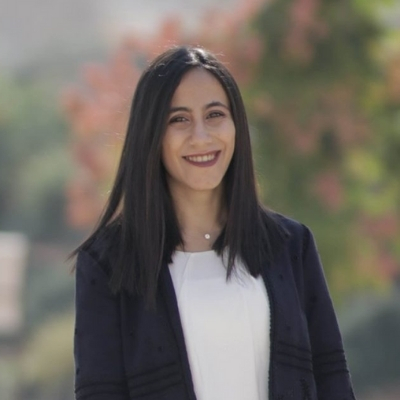 "Job creation and workforce development"
JOIN US TO RADICALLY IMAGINE THE FUTURE OF PALESTINE
Panel: Job creation and workforce development
The international community has lauded startup development as a tool for job creation and economic growth – when and how does investment in the startup ecosystem lead to job creation and economic growth? Likewise, international and local investment in job preparedness via relevant and timely education is considered key to ensuring upward mobility and employment access.
What has succeeded? What is still lacking? In this panel, we will explore the science behind the strategies, learn about grassroots & international initiatives that have moved forward over the past 5 years, and what gaps still exist and methods we should employ to ensure growth and resiliency – particularly in this COVID19 moment.
Mona Demaidi's Bio
Dr Mona Nabil Demaidi is an entrepreneur and women's rights advocate. She obtained her PhD in Advanced Software Engineering and Machine Learning, MSc with distinction in Software Engineering and Data Management from the University of Manchester, UK. Dr Mona joined An-Najah National University in 2016, to become the youngest female with a PhD certificate at the Faculty of Engineering and Information Technology. Her research focuses on building personalized learning environments using machine learning. Besides her academic work, Dr Mona is an active member of several societies which globally support women in the technology sector. She has been a board member with Women in Engineering and Arab Women in computing since 2014. In 2017 she became the first female supervisor and senior member of the Institute of Electrical and Electronics Engineers (IEEE) at An-Najah National University student branch. Dr Mona's ambition to help Palestinian women was not limited to Palestine or the MENA region, she was keen to find opportunities to improve the network for Palestinian women and help them connect with the rest of the world. Therefore, in 2019, Dr Mona became the Co-Managing Director for Girls in Tech in Palestine which is the first chapter in the MENA region. In addition to supporting women in Palestine, Dr Mona is highly involved in the Palestinian startup ecosystem, she consulted for several startups to improve their nascent ideas and expansion. Moreover, she participated in several judging panels and was selected to represent the Palestinian women in the International Visitor Leadership Program – IT entrepreneurship. Also, on the volunteering front, but closely tied to industry and education, Dr Mona served as the Chairwomen of the first Palestinian IEEE Women in Engineering Leadership Conference.
This is your chance to plug into the social innovation scene in Palestine and directly connect with changemakers.