Today is International Women's Day. And yes, while we agree that every day is Women's Day, we're still eager to take advantage of the occasion to celebrate a few women who deserve some extra frosting.
We've curated a mashup of unapologetically defiant quotes, colorful hijabs, a variety of passports, and a few servings of sass. Here are 12 women from different industries changing the game, challenging the status quo, and adding a splash of inspiration to your morning coffee.
Laila Shawa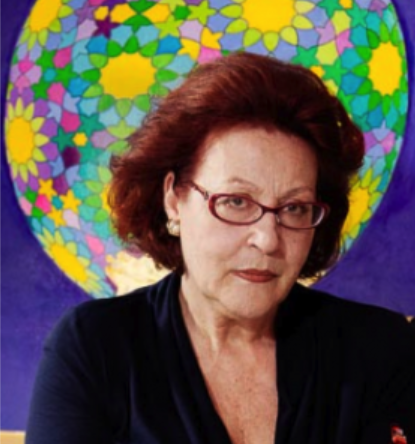 "I come from a long line of strong women. My grandmothers were very powerful… I grew up as an equal, and always believed in the power of women."
Born in 1940 to one of Gaza's old landowning families, Laila Shawa was 8 years old when her family was forced to flee Palestine. She has since lived and worked from London and Vermont, staying closely affiliated with Palestine by way of humanitarian aid and art. Shawa studied at the Leonardo da Vinci School of Art in Cairo and the Academy of Fine Arts in Rome. Her work has since forged a space in which she lends a voice to the Palestinians in a time when they cannot speak for themselves. With work featured in exhibitions all over the world, Shawa has most recently started a socio-political critique of the role of women in the Arab world, bringing issues of colonialism, patriarchy, extremism, and sexism to light. Above all, Shawa's artworks are acts of creative defiance.
Linda Sarsour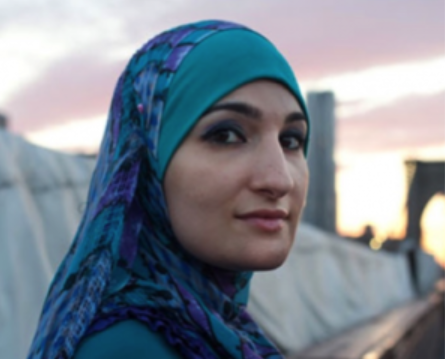 "When we are protected, when we are respected, when we are able to thrive and given the same opportunities as our male counterparts, when we are given space to lead and rise — our nation will rise."
A kaleidoscope of a woman, Linda Sarsour is "an award-winning racial justice and civil rights activist, community organizer, social media maverick, every Islamophobe's worst nightmare and mother of three."
Ambitious, outspoken and bold, Linda shatters stereotypes of Muslim women while also treasuring her religious and ethnic heritage. She is a Palestinian Muslim American and a self-proclaimed "pure New Yorker, born and raised in Brooklyn!" Sarsour has been at the forefront of major civil rights campaigns, calling for an end to unwarranted surveillance of New York's Muslim communities and working to build solidarity amongst American Muslim communities. She is a member of the Justice League NYC, a group of activists and artists dedicated to reforming the criminal justice system. She was a leading organizer of the Women's March this past January.
Maysoon Zayid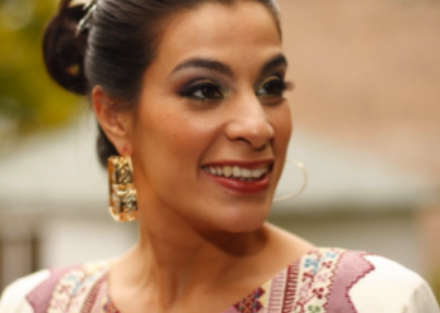 "I hope that together, we can create more positive images of disability in the media and in everyday life."
A Palestinian woman from New Jersey, Maysoon Zayid is a stand-up comedian with cerebral palsy. Her disability proved to be a strength early in her acting career when she realized that embracing it with humor was the key to more stage time. As she told the BBC, "It became very obvious to me that in the United States of America, a fluffy ethnic disabled chick was never going to get a job unless she did stand-up." Using comedy to address and challenge issues of gender inequality, Arab stereotypes, American politics, and the Palestinian-Israeli conflict, Zayid is an activist with wit and flair.
The comedian is a co-founder of the New York Arab-American Comedy Festival, now entering its 14th year. She spends several months of the year in Palestine running workshops for disabled and orphaned kids in refugee camps, using art to help them deal with trauma.
Susan Abulhawa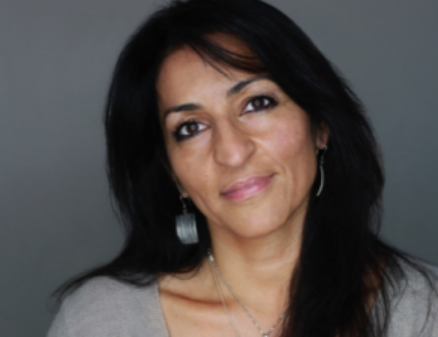 "I wanted to put a Palestinian voice in English literature…and it was all about narrating their story with humanity and with honesty and with poetry"
Born in Kuwait in 1970 to refugees of the 1967 War, Susan Abulhawa is no stranger to the struggles of displacement. At 10 years old, she moved to East Jerusalem, where she boarded at an all-girls school and orphanage before leaving to the US. While those conditions might sound difficult, Abulhawa remembers them joy, finding bliss in being able to explore her family's roots in a way that many refugees cannot.
She graduated from Pfeiffer University and received her Master's degree in Neuroscience from the University of South Carolina. Well on her way to a career in medicine, she was inspired to write Mornings in Jenin, a fictional novel inspired by the courage and humanity of the citizens of Jenin and illustrative of the Palestinian sense of rootlessness.
Mona Hatoum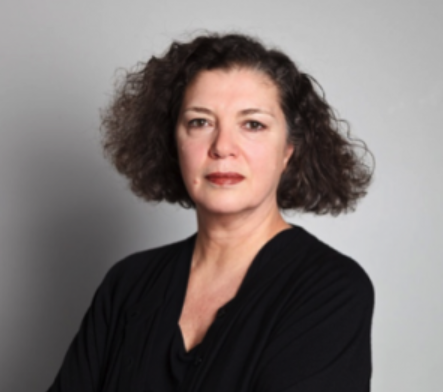 "[My work is] about shattering the familiar to create uncertainty and make you question things that you normally take for granted…this is what critical awareness is about."
Mona Hatoum is an acclaimed artist whose works explore identity as defined by displacement in an increasingly divided world. Typically working in performance, video, sculpture, and installation, she has featured pieces in exhibitions across the globe. Hatoum has experienced considerable international success, most recently featuring a retrospective of 35 years of work at the Tate Modern in 2016. Born in 1952 in Beirut, she now resides and creates in London.
Najla Said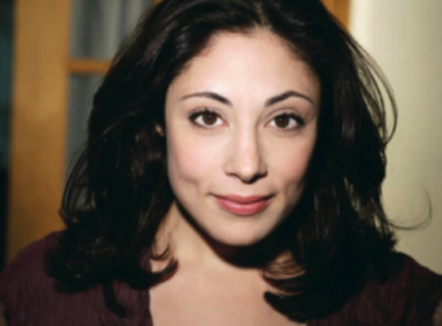 "I struggled…to reconcile the beautiful, comforting, loving world of my home, culture, and family with the supposed 'barbaric' and 'backward' place and society others perceived it to be"
Actress Najla Said is a Palestinian-Lebanese-American Christian; growing up in New York City, her identity was anything but clearly defined. The daughter of prominent literary critic Edward Said, she spent her childhood in one of the most influential intellectual households in America.
As much as her father might have felt grounded, Najla Said felt disoriented about who she was growing up. Trying to reconcile the worlds of her mother's Lebanese family, her father's Palestinian heritage and her own American lifestyle led to large, unsettling questions of identity and self-worth. She describes the struggle with humor, honesty, and empathy in her memoir, Looking for Palestine: Growing Up Confused in an Arab-American Family. The book encompasses the frustrations inherent to the rootlessness that can be felt in midst of a multicultural background.
Hanan Hroub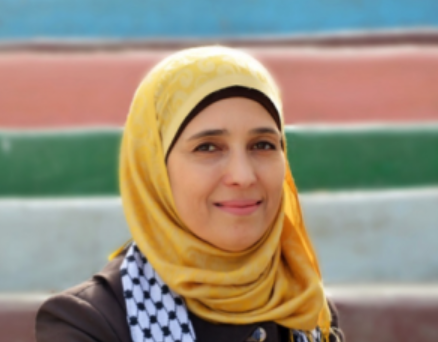 "I want to provide a safe environment for learning. I cannot influence the wider environment but I can influence the child."
Hanan Hroub grew up in a refugee camp in Bethlehem where she was regularly exposed to violence. Her decision to go into teaching was catalyzed by the trauma her own children experienced after witnessing a shooting. In the following years, her journey in helping her children develop healthy behavior in the face of trauma inspired her to help others who required similar attention and care.
Living under military occupation, Palestinian classrooms are tense, and some children who struggle to process their situation end up resorting to violence. Hanan, with the slogan "No to Violence", uses an approach she developed herself, in which she focuses on developing relationships of trust, respect, honesty, and affection with her students. She advocates for the importance of literacy in conjunction with the safe environment of the classroom. This approach has resulted in a decline in violent behavior in schools, inspiring her colleagues to review their teaching methods, classroom management strategies, and reward systems. In 2016, Hroub was awarded the Global Teacher Prize, often referred to as the "Nobel Prize for Teaching."
Hanan Ashrawi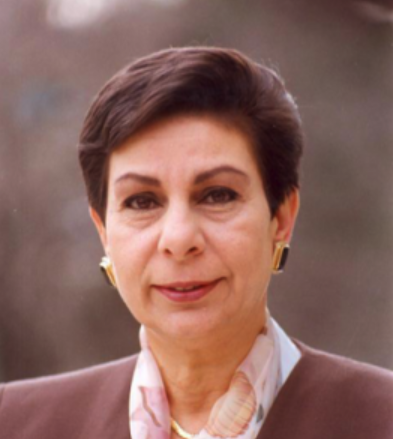 "We cannot rely upon the silenced to tell us they are suffering."
As a leader in politics and civil society, Dr. Hanan Mikhail Ashrawi has worked tirelessly for an end to the Israeli occupation and for democracy and gender equality in Palestine. A former professor of English literature, she is best known for her advocacy of Palestinian self-determination and peace in the Middle East.
Hanan Ashrawi was born on October 8, 1946 in Nablus, Palestine. Hanan was the youngest of five daughters in a middle class Christian family and during the 1948 war, her family was forced to flee to Amman, Jordan. Hanan was inspired to activism by her father, who favored a greater role for women in society. She served as the Official Spokesperson of the Palestinian Delegation to the Middle East Peace Process from 1991-93 and also participated in the 1991-1992 Madrid peace conference as a member of the Palestinian Leadership Committee delegation. As a senior member of the leadership in Palestine, she practices politics with articulation, force, honesty, and composure.
Samia Halaby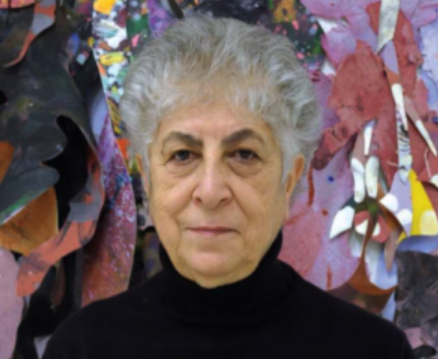 "I believe most people are creative in the various ways they practice their work and hobbies during their life. The young…should be hopeful and search hard for their inspiration."
Palestinian artist, scholar and art historian Samia Halaby became one of the most prominent artists within the international movement of abstraction in Arab art. Born in Jerusalem in 1936, Halaby uses both acrylic and oil paints for her works, which are often large in size and influenced by nature, depicting Palestinian landscape in a bright and vivid color palette. She has held many solo exhibitions, and her paintings are displayed in several significant museum collections throughout the world.
Halaby, now living in New York, was raised in Yafa until her family immigrated to Lebanon after the 1948 War. Moving to the United States, she has taught art at U.S. universities, including the Yale School of Art. Through her art, writing and curating, Halaby has actively advocated for the rights of Palestinians.
Lila Abu-Lughod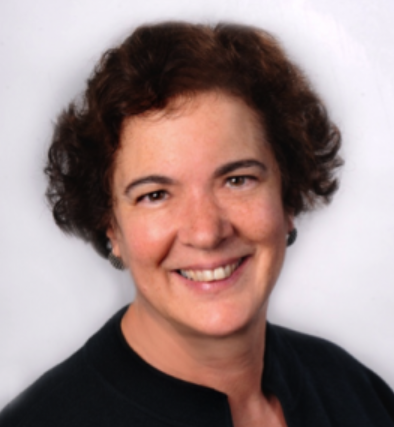 "Anthropologists should now pursue, without exaggerated hopes, for the power of their texts to change the world…"
Lila Abu-Lughod teaches anthropology and gender studies at Columbia University. A leading voice in the debates about gender, Islam, and global feminist politics, her books and articles have been translated into 13 languages. Her award-winning books explore the dynamics of gender, the question of women's rights in the Middle East, and cultural expression. Her most recent book, Do Muslim Women Need Saving? was published by Harvard University Press in 2013. She defies the status quo by "writing against culture" and challenging transnational feminist representations of women in the Arab world.
Annemarie Jacir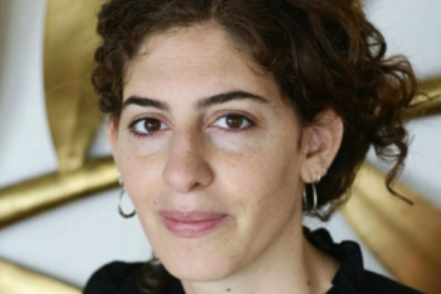 "I like to be rooted in real people and real situations, yet at the same time indulge in the freedom of what cinema is about: our dreams, our ability to change or escape."
Annemarie Jacir is an independent filmmaker and screenwriter living in Jordan. Named one of Filmmaker magazine's 25 New Faces of Independent Cinema, two of her films have premiered as Official Selections at the Cannes Film Festival, one as an Academy Award qualifier, and one in Venice. Her first feature film, Salt of this Sea (2008), was Palestine's Official Oscar Entry for Best Foreign Language Film and was also noted as the first feature film directed by a Palestinian woman. The film has won numerous other awards. Her second feature film, When I Saw You (2012), won Best Asian Film at the 63rd Berlin International Film Festival.
She is a founding member of the Palestinian Filmmakers' Collective, based in Ramallah. Jacir lives in Amman, teaching screenwriting, working as an editor and film curator, and actively promoting independent cinema.
Emily Jacir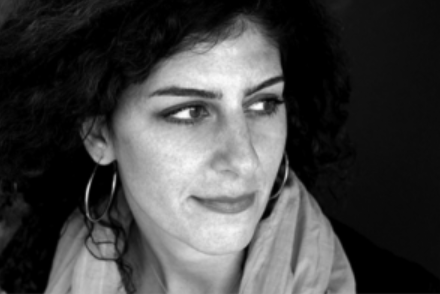 "I want all our histories and narratives; every name, every village, every story, every account, every version, every attempt, every artifact, every battle, everything. All of it. No matter where it took place."
Emily Jacir is a critically acclaimed contemporary artist, working in a variety of media including film, photography, installation, performance, and video. She has been awarded several prestigious awards including the "Golden Lion Award for an artist under 40", at the 2007 Venice Biennale—the oldest and premier international art event in Europe, often dubbed "the Olympics of art." Having exhibited extensively across the globe, Jacir is an exceptionally talented artist whose works boldly engages issues borne out of the Palestinian-Israeli conflict.
Coming from a colorful background, Jacir was born in Bethlehem, spent her childhood in Saudi Arabia, and attended high school in Italy. She studied fine arts there and in the United States. Jacir now divides her time between Rome, Italy and Ramallah. In 2002, she founded and curated the first International Video Festival in Ramallah. She currently lectures at the International Academy of Art in Al-Bireh.
—
Yasmeen Mjalli is a freelance writer and artist based in Ramallah. A graduate of art history from the University of North Carolina Greensboro, she seeks to foster collective cultural experiences and movements through writing and socially engaged art projects. She can be reached at [email protected] or on Linkedin.