We held this month's BUILDx event at Birzeit University. Check out the brilliant minds we met there!
Alaa' Sabbagh – Pal Moda
Alaa' works as a manager in Al Bireh Municipality, but she doesn't just do that. She's also a student and a social entrepreneur.
Alaa' told the story of how upon finishing Tawjeehi (Palestinian final high school exam) with honors, she was pressured by society and her family to study medicine or engineering."It's this stereotypical idea – if someone gets a high grade, they should only go into medicine or engineering." commented Alaa'. Alaa' defied everyone and went into finance. She is now a master's student at Birzeit University studying Law and Economics.
"I had a talent for painting, but I couldn't convince my parents to study art. But the idea stayed in my mind. I wanted to go into fashion design."
Alaa' began to sketch designs, and finally turned one of the sketches into a design of her own, and wore it to an occasion. After receiving praise on her work, she began to design products and post them on her Facebook page under the brand Pal Mode.
"I wanted to do what I liked."
Alaa' later went to several women's and youth organizations, and saw that many people, upon graduating, are left jobless. She went into these organizations, and recruited women who liked to work in embroidery, and hired them at Pal Mode. "I liked the idea of working on Palestinian embroidery. It gave me the opportunity to look into the different stories behind the stitches, and translated that into stories for each of our products. So when someone buys an item, they're becoming part of a story."
This way, Alaa' helped spread cultural awareness about our heritage. As Alaa' expanded her work, she moved to Jordan where she hired Syrian refugees, as well as Palestinian women in Turkey, where she opened her second branch. Talk about social impact!
GiveLife
Next, Miral Albandak, Hadeel Khader, and Raghad Abushamma stepped on the stage to talk about their mobile application – GiveLife. GiveLife is a blood donation app which connects donors with hospitals, with the blood bank. The mobile app hopes to decrease donor wait-time, increase the blood bank's blood supply, and ultimately – save lives.
The three social entrepreneurs addressed the problem they saw in society, the shortage in blood supply, and the dwindling numbers of voluntary donors which currently stands at 47% of the population. "Our goal is to save lives. We can do this by increasing the number of voluntary donors, thereby increasing the blood supply available in hospitals for emergencies."
Once a user downloads the app, they can register and are notified when there's a need for blood for their same blood type, and donors will be updated. The app will also provide daily medical information.
"Our future plan is to expand beyond Ramallah – to be able to save as many lives as we can."
Miral, Hadeel, and Raghad, also have a plan for sustainability. They plan to use app paid advertisements from private clinics and hospitals to sustain their operations. This is crucial as sustainability can be a common challenge for social entrepreneurs. But the three young women have a plan.
GiveLife's current challenge is raising awareness about blood donation, and its health benefits. "People think that their body becomes weaker when they donate blood, but it's quite the opposite." In the end, Miral, Hadeel, and Raghad stressed that they are "a social enterprise, with a humanitarian goal."
GiveLife has received several awards, and a fund to develop the application. We look forward to seeing the fruits of their work harvested!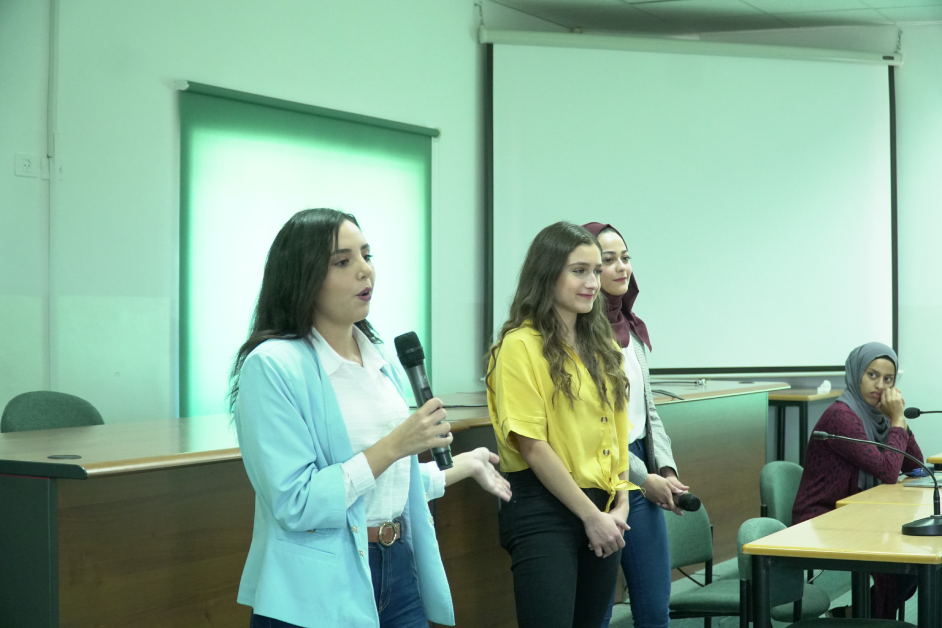 Litaskono Elaiha (لتسكنوا اليها)
Eiba' Abu Taha talked about her initiative, founded three years ago. Eiba's initiative raises awareness with regards to marriage, relationships, and family life. Eiba' speaks about her personal experience. "When I got married, I faced many challenges. It was a huge change for me." Eiba' noticed a huge contrast between the married life image she's used to seeing in social media, and reality.
Litaskono Elaiha was the answer. The initiative is currently run by Eiba, and her team of around 10 people. They work on hosting an annual conference, and host between 200 and 300 people every year. The conference brings leading academics, researchers, and experts to lead workshops and discussions.
Eiba' hopes that her initiative will eventually decrease the divorce rate in Palestine which is currently 20%. Her bigger vision though, is to establish an organization focused on providing consultancies and research on such issues.
BUILDx Takeaway…
We really enjoyed being at Birzeit University, and hearing all about the great work that's being done there. Students, your energy is truly wonderful, best of luck in all your endeavors.
We'd like to especially thank the Innovation and Entrepreneurship Unit at Birzeit University for their help in organizing this event.