We're excited to see health tech begin to flourish in Palestine; here are three social enterprises leading health-tech in  Palestine…
Hakini, the first mental health online platform in Palestine 
Hakini, "tell me" or "talk to me" in Arabic, is an online platform that works to provide mental health services in Palestine, and aims to make therapy accessible to individuals in need.
Hakini was founded by Sondos Mleitat in 2020. Only a few years earlier, Sondos had been struggling with her mental health, and was in dire need of therapy. Unfortunately, at the time, seeking mental health support in Palestine was not easy. Access to therapy providers was, and still is, a challenging endeavor. Sondos was eventually able to seek the therapy she needed, and it made all the difference for her. 
As a response, and stemming from her belief that mental health therapy should be accessible to anyone who needs it, Sondos decided to found Hakini. Sondos knew that thousands of Palestinians struggled in the same way she once did, so she sought to provide the solution she lacked at the time. 
"I became a more resilient, and independent woman, I got the skills to cope with challenges. For me, the therapy experience positively changed my life. After this experience, I decided to create Hakini to help others access therapy in Palestine."
In comes Hakini, the first Palestinian platoform to offer therapy, self-help intervention, and teletherapy to make mental health services accessible in Palestine, and the Arab world at large.  Hakini has so far provided over 600 therapy sessions since its founding in 2020.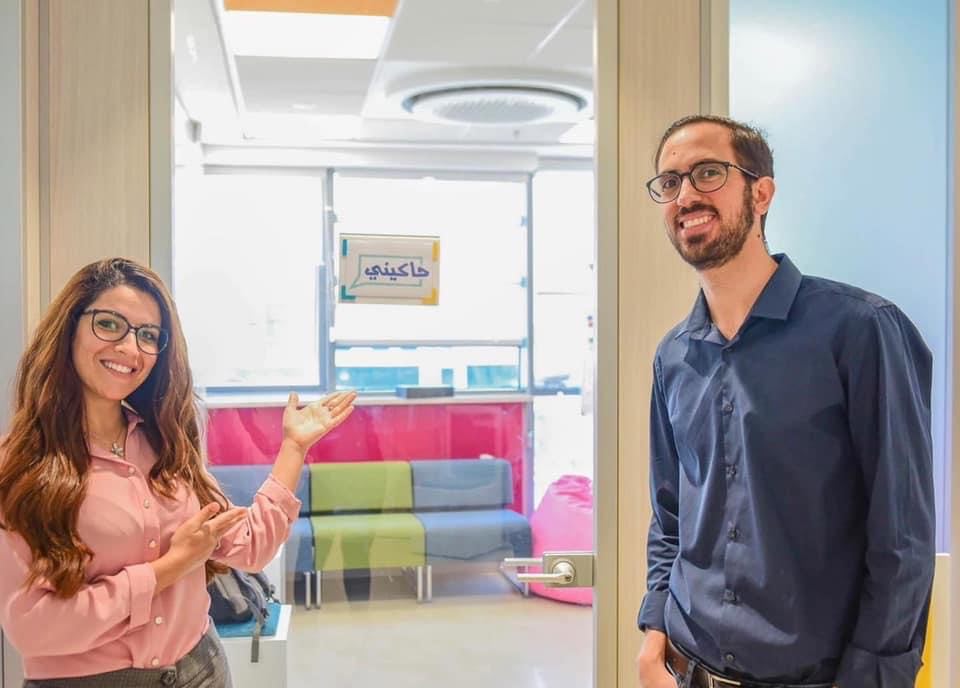 Most recently, the Hakini team has launched a crowdfunding campaign to help provide therapy sessions and workshops for Palestinians in Gaza. With thousands left without homes, thousands of others digging in literal rubble to recover pieces of their lives, mental health therapy becomes almost essential to the already traumatized population in Gaza.
If you'd like to support the campaign, donate here, and share with your friends and network.
TebFact, bringing doctors closer to patients 
TebFact is an online medical consulting services platform and app specialized in providing services for urgent, chronic, and mental health issues. TebFact started as an initiative by a group of medical students in Gaza. The app was launched in early 2019, to provide medical consultations, to promote accurate medical information, and to easily connect patients with doctors.
During the past two years, TebFact has been working extensively, especially during the onset and spread of COVID-19 in Gaza. During the critical time, the TebFact team were putting out pamphlets, resources, and free consulting services in attempts to help contain the virus. 
The silver lining was that the COVID-19 crisis was an element to TebFact's growth- especially at a time when people were confined in their homes, and had no other means to get in contact with doctors throughout the Gaza Strip. The TebFact team also implemented a mental health support program for families in Gaza during quarantine.
The TebFact team also played an instrumental role during the latest May aggressions on Gaza. The team offered free medical consultancies to relieve the burden of the already strained hospitals and medical centers. 
Since its founding, the TebFact app was downloaded 15,000+ times, has provided over 10,000+ consultations, and has worked with over 150 doctors. The team, alongside 100 medical editors, have published over 1,000 medical articles which are read by over 300 thousand monthly visitors. Today, the enterprise is continuing to work to provide consulting services across Gaza, Palestine, and the Arab World. 
Learn more about TebFact, and get in touch here. 
HomelyCare
Before HomelyCare came to being, it was a small team of a group of nurses who were helong out individually during the  2018 "Gaza Return Marches." The group mobilized and joined an accelerator program, and in 2020, the team officially established HomelyCare. At this time, they had grown to 35 nurses, and 15 physical therapy providers, and partnered with multiple pharmacies.
HomelyCare supports healthcare seekers who are unable to reach healthcare services. For many people, it's difficult, and sometimes impossible to reach needed medical care. Additionally, what's incredible about HomelyCare is the fact that they provide their services at affordable prices- about 10 shekels (less than $3 USD) per visit, half of which is used to support HomelyCare, and half is put away to cover costs for people who otherwise cannot afford. 
The enterprise's services cover different areas in Gaza, and cover a variety of therapy services including post-op care, chronic illness therapy, as well as physical therapy. The team also works to provide and promote health awareness in Gaza, and Palestine in general. HomelyCare's services have proved to be especially important during this COVID-19 moment where the risk of contracting the virus during hospital visits was high.
Most recently, the HomelyCare team launched a peer-to-peer learning program, in which nursing graduates and students join the HomelyCare team on their visits to learn, and later join the team effort. 
"Our message at the end of the day is that healthcare is a right to anyone in need." Fekri Mohammad, Co-founder, concludes. "We do what we can with our humble efforts to be able to provide these services to our people in Gaza." 
To learn more about HomelyCare, and to get in touch, visit their website here.
Join BuildPalestine's 2021 Summit to learn more about these enterprises, and connect with Palestinians at home and in the diaspora. Register now!