2020 SOCIAL INNOVATION SUMMIT  SPEAKER
Eng. Aref Husseini
Chairman @ Jerusalem Innovation Park – AlNayzak Organization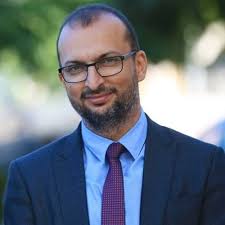 "Job creation and workforce development"
JOIN US TO RADICALLY IMAGINE THE FUTURE OF PALESTINE
Panel: Job creation and workforce development
The international community has lauded startup development as a tool for job creation and economic growth – when and how does investment in the startup ecosystem lead to job creation and economic growth? Likewise, international and local investment in job preparedness via relevant and timely education is considered key to ensuring upward mobility and employment access.
What has succeeded? What is still lacking? In this panel, we will explore the science behind the strategies, learn about grassroots & international initiatives that have moved forward over the past 5 years, and what gaps still exist and methods we should employ to ensure growth and resiliency – particularly in this COVID19 moment.
Aref Husseini's Bio
Aref Husseini is challenging traditional teaching methods in the Palestinian education system to produce more students who are critical thinkers and approach problem solving through research, analysis, and open-minded scientific thinking. Cultivating these bright young minds to contribute to intellectual discourse and scientific ingenuity will help to advance the role of scientists and inventors in Palestine. Aref founded Al-Nayzak for Supportive Learning and Scientific Innovation to incorporate critical-thinking exercises and science into the public-school curriculum. Al-Nayzak, which means "the meteor"? in Arabic, offers a variety of programming to encourage intellectual curiosity and scientific creativity in children from a young age, ranging from critical-thinking exercises to summer science camps.
Al-Nayzak sponsors a scientific incubation program for young male and female inventors who possess an original idea, and pairs them with experts in their field to scale up their project into a prototype that can be patented for mass production. The Al-Nayzak center is based in East Jerusalem, with activity centers located in Nablus and Gaza to serve Palestinian youth throughout the territories.
Since founding Al-Nayzak in 2005, Aref has built a successful organization that is recognized by the NGO community in Palestine and has entered into partnerships to serve over 3,000 children and youth. Ultimately, his education programs will contribute to economic growth in Palestine through building new industry and investment opportunity.
Al-Nayzak participates in the Made in the Arab World competition, which gives young inventors the opportunity to showcase their work on a national and regional level, garnering funding and recognition for their scientific and industrial innovations. Recently, three al-Nayzak participants won prestigious awards at the 2009 Made in the Arab World competition, making Palestine the winning country.
This is your chance to plug into the social innovation scene in Palestine and directly connect with changemakers.