2020 SOCIAL INNOVATION SUMMIT  SPEAKER
Dr. Zeina Siam
Associate Program Officer @ Gates Foundation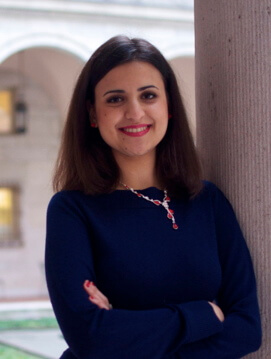 "Mental health and COVID-19: challenges and opportunities"
JOIN US TO RADICALLY IMAGINE THE FUTURE OF PALESTINE
Panel: Mental health and COVID-19: challenges and opportunities
Alongside Covid-19, there is also a mental health pandemic. What evidence do we have and what conversations do we need to have to promote social mobilization and innovation in the realm of mental health?  Who has started to push the frontier? What are their challenges? And what opportunities do the panelists see on the ground? 
Dr. Zeina Siam's Bio
Dr. Siam obtained her PhD in Population Health Sciences/Health Systems Track at Harvard University in 2019. Siam's interests are primarily in health behaviors. Her work is primarily focused on maternal and child health outcomes in the East Mediterranean and Africa. 
Siam obtained her Bachelors of Science in Biological Engineering from MIT in 2012, and her Masters of Science in Epidemiology from Harvard University in 2014. Prior to her PhD, Siam was a health systems officer at the World Health Organization. She has consulted for the World Bank, Islamic Development Bank, and Microclinic International.
This is your chance to plug into the social innovation scene in Palestine and directly connect with changemakers.